A mother shares her journey recovering from a Moyamoya-induced stroke
Orlena Shek had never heard of Moyamoya, a rare disease caused by blocked arteries in the brain, before. At least, not until she experienced a massive hemorrhagic stroke caused by it in 2011. She had been driving on the highway with her 21-month-old daughter when her movements behind the wheel suddenly became erratic. Orlena knew something was wrong and tried pulling her car over to the side of the road. However, she lost control and hit the central divider. A nearby good Samaritan helped her contact her nanny and other family members, who helped Orlena and her daughter both get home safely. But once she was home, she knew something still wasn't right. Orlena called 911 right before she collapsed and got rushed to the emergency room.
The Moyamoya Diagnosis
Looking back at that night, Orlena notes how lucky she was to have received her diagnosis of this rare disease. It just so happened that a Neurosurgeon who practiced under the world's leading Moyamoya neurosurgeon in the world was on duty. They recognized the signs right away. Moyamoya is an extremely rare progressive cerebrovascular disorder caused by blocked arteries at the base of the brain. As the blood vessels narrow and become blocked over time, it increases the risk of stroke.
Five months later, Orlena received two bypass brain surgeries only one week apart. She spent six weeks at the hospital and more than half of that time in a medically induced coma.
Learning how to live again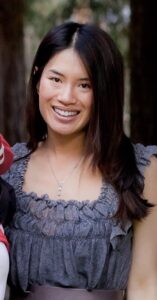 While the surgeries saved Orlena's life, she had to re-learn how to live it. She spent almost half a year in and out of hospitals. She also attended three different rehabilitation centers to learn how to walk and talk again. Her daughter, who was 19 months old at the time of the accident, grew up fast in those six months without her mother.
Now, post-stroke and post-surgery, Orlena has weakness on her left side and walks with a cane. She'll likely need to wear a brace for the rest of her life, but still looks on the bright side—"That's why I have Nike® Free shoes in every color," she often jokes when sharing her story.
During her recovery, her colleagues and other members of her support team, "Team Orlena" folded 1,800 origami paper cranes—a symbol of good fortune. The cranes still hang in her living room to remind her of her progress. Since then, Orlena has adapted to each challenge with perseverance and grace. She took on the challenge of learning how to take stairs, recovered from knee surgery, and even gave birth to a second child. She also worked to regain a large part of her independence.
In 2019, she received the good news from her neurosurgeon that her Moyamoya vessels were disintegrating and will eventually disappear. This makes the chances of another stroke highly unlikely.
Advocating for others
Over time, Orlena has become a Moyamoya advocate, sharing her story to raise awareness of this rare disease that affects one in a million people. She also uses her patient experience to advocate for accessibility for those with disabilities. When her therapeutic gym was on the brink of closure, she attended a town hall held by the city to advocate for it to stay open. She explained that its adaptive equipment was vital to people with disabilities. Orlena received a standing ovation, and the gym remained open.
Orlena now frequently speaks in the community to raise awareness about stroke survival and rare brain disease. Her goal is to inspire  others, especially young mothers, that there can be life after stroke.
The American Brain Foundation is committed to finding cures for brain diseases. Donate today to make a difference. With your help, we won't have to imagine a world without brain disease, we'll be able to live in one.