A dedicated student perseveres after her soccer-related brain injury led to an epilepsy diagnosis
It was Labor Day weekend of 2010 and 16-year-old Sasha Pina was playing soccer. But when she went for a header at the same time as a player on the opposing team, the other player's elbow hit Sasha on the right side of the head, causing her to lose consciousness while still in the air. She fell to the ground, landing on the left side of her head and was quickly transported to the hospital.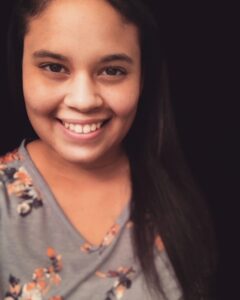 At the hospital, Sasha had an MRI and a CAT scan to determine the extent of her injury. However, as the medical team reviewed the images, her physical condition continued to worsen. The team ultimately identified a skull fracture and had Sasha transferred to the local children's hospital. She found out she had a lateral skull fracture, a traumatic brain injury including grade 3 concussion, brain swelling, and severe amnesia. During this first stage of recovery, Sasha spent several days in the pediatric intensive care unit. But her medical journey was far from over.
An Epilepsy Diagnosis
A talented soccer player, Sasha was no stranger to head trauma. At the age of seven, she started playing the sport at the recreational level. Later on, she began playing for club and travel teams as well as her high school. During those years, she'd experienced concussions before. Some of them sidelined her, and other times, she played through her symptoms. But this time, her injury was life-altering.
Following the injury, Sasha experienced amnesia, which she describes as both frustrating and kind of scary. "You don't truly know who you are. So when doctors tell you that 'this is your mom' or 'this is your brother,' you just have to believe them because you don't really know," she says. She spent  half a year in physical therapy, occupational therapy and speech therapy at a brain injury rehabilitation center. Eventually, Sasha was able to recover some of her memories and learn strategies to help her in the future. In the months that followed, she limited her time at school to half-days in order to allow her brain to rest. She also avoided any physical activity that could risk further injury.
But then, ten months after the Labor Day soccer injury, Sasha experienced a seizure while attending a church service. "My mom said that I stood up and I wasn't responsive to her. And then that's really all I remember," she says. "I just remember having this weird feeling. Probably like an aura, but I didn't know it was an aura then." After an evaluation at the hospital, Sasha learned she had epilepsy.
Finding Treatment
Over the next few years, Sasha tried as many as seven anti-seizure and rescue medications but continued having uncontrolled seizures. "Life isn't meant to be lived with taking multiple medications and having seizures you can't control," Sasha explains.
After learning about vagus nerve stimulation (VNS) implants during Epilepsy Awareness Day at Disneyland, Sasha did her own research. She then talked to her mom and a year later discussed the device with her doctor. In February 2016, at the age of 22, she underwent a procedure to receive the implant. It's a pacemaker-like device implanted in the left side of the chest with wiring wrapped around the vagus nerve. The device emits electrical impulses to the brain every five minutes for 30 seconds. This mechanism aims to prevent the abnormal brain activity that can cause seizures.
While the VNS device is a treatment, it is not a cure for her epilepsy. For Sasha, the implant has helped limit the number of seizures she has—now, about one seizure a month with some simple partial seizures, compared to as many as two a week before the implant—and it's also allowed her to regain some independence. Today, Sasha lives with her mom but says they act more like roommates.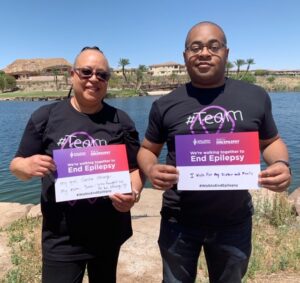 The Value of a Support System
Sasha's support system has been an important part of her recovery. During her initial hospital stay, she gave credit to the doctors, nurses, and life care specialists with helping her reconnect with family and friends. Because of the brain injury she experienced, she couldn't remember her mom's name or how to send a text message. So she placed trust in the medical professionals who stayed by her side.
After her epilepsy diagnosis, Sasha continued to find support in her family, friends, and community. Her grandma had epilepsy, so when Sasha started to have seizures, her family was able to draw on their knowledge and past experience to provide support. "My mom would never let me give up on anything, no matter how tired I was," she says. "What kind of kept me going was just trying to get back to normal—because you don't feel normal."
Sasha points out that her health journey was difficult for some friends because they didn't know how to handle it. But she also gained new friends through advocacy work. That included her best friend Sierra, who she met at the Epilepsy Foundation of Nevada's annual walk event three years ago. The two initially connected to talk about VNS treatment because Sierra was considering getting the implant. Soon, they became fast friends. Sasha finds comfort in these friendships with people who understand her experience. "Anyone who doesn't understand an aura or epilepsy wouldn't get it. But Sierra understands because she goes through it."
However, epilepsy does affect Sasha's daily activities. Unlike other people her age, she's not able to drive and has to live her life on other people's schedules. Her brain injury and post-concussion syndrome also cause memory issues, which can impact her at school and work. Sasha makes an extra effort to stay focused, take diligent notes, and eliminate distractions. She often fights fatigue and loss of concentration using memory strategies learned in therapy. She also continues adapting to find the best way forward.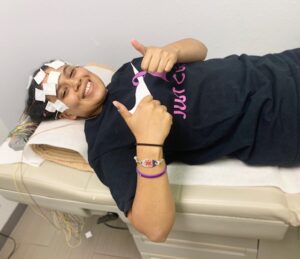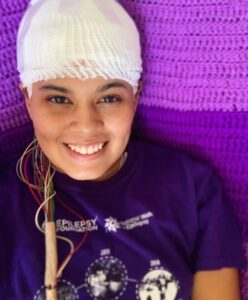 Dedicated to Helping Others
Currently, Sasha works as a nursing assistant and is in school to become an electroencephalogram (EEG) technician specializing in pediatrics. Sasha's decision to pursue this career was influenced by her own experiences as a patient. She knows how scary the tests can be for young children, especially the first time. So she wants to make that part of the process easier.
Soccer used to be a big part of Sasha's life. But after fracturing her skull, she had to give up the sport. To fill the void, Sasha has turned her focus to advocacy and participation in the different organizations she cares about, like the Epilepsy Foundation of Nevada and The Danny Did Foundation. Her number-one hope is a cure for epilepsy. She knows that research on brain disease will help get one step closer to that cure. Not only is Sasha an organ donor, but she's also a brain donor. "I feel like research is very important when it comes to the brain because there's so much that we don't know about it," she says.
That's why Sasha is passionate about sharing her story—to educate others and to give people hope. She urges others who have epilepsy to do the same. "Don't live in fear. And don't hide your diagnosis because it's nothing to be embarrassed of," she says. "It's nothing to hide because there's other people out there that have epilepsy, and there's other people that may experience what you experienced. So sharing your story will help someone else."
The American Brain Foundation is committed to finding cures for brain diseases. Donate today to make a difference. With your help, we won't have to imagine a world without brain disease, we'll be able to live in one.