Myasthenia Gravis Overview
Myasthenia gravis is an autoimmune neuromuscular disease that causes weakness in the muscles that control bodily function and movement. Rather than protecting the body, the immune system of someone with this disease attacks its own cells and tissues.
For people with myasthenia gravis, antibodies—proteins produced by their immune system—block the normal activity of a neurotransmitter called acetylcholine. This causes an interruption in the messages sent from the nerve endings to the muscles and prevents them from contracting. The thymus gland can also play a role in this immune system response.
Here is some helpful information about myasthenia gravis.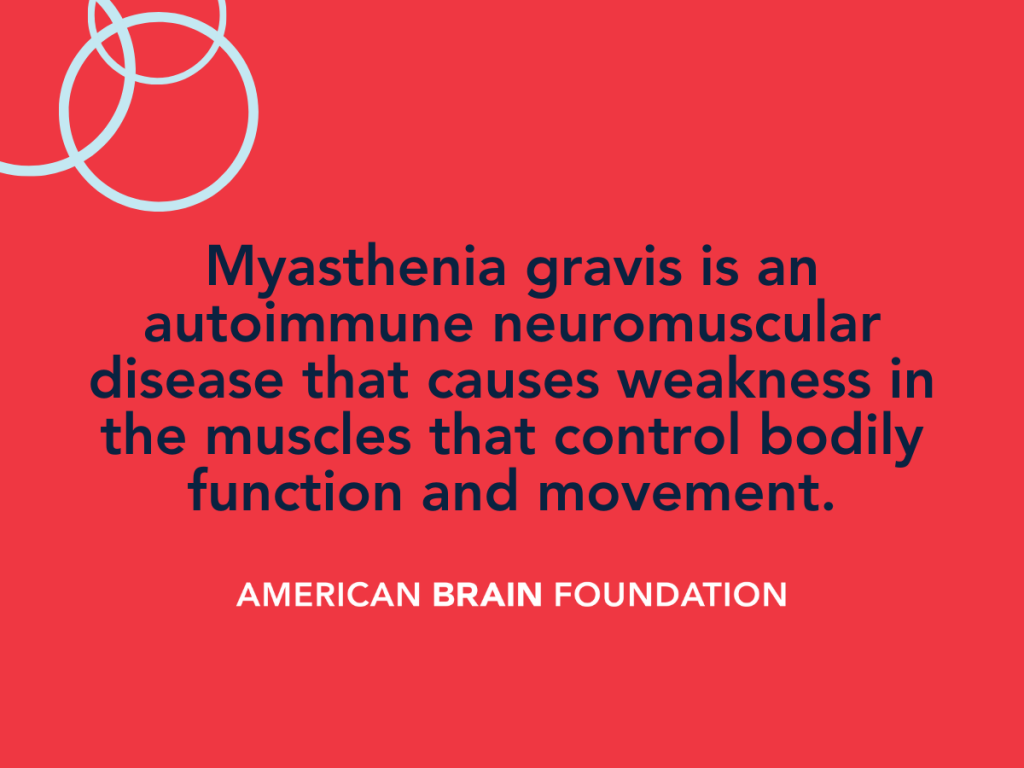 36,000+
People in the U.S. are affected by myasthenia gravis
Under 40
Age in which myasthenia gravis most commonly develops in women
Over 60
Age in which myasthenia gravis most commonly develops in men
Myasthenia Gravis Risk Factors
Myasthenia gravis affects approximately 14 to 20 out of 100,000 people in the U.S., which translates to 36,000 to 60,000 individuals. It affects all genders and ethnic groups. Symptoms can begin at any age but most commonly develop in women under 40 and men over 60 years of age. A very small percentage of people with myasthenia gravis have a relative who also has the disease. But people do not inherit it, nor is it contagious.
Pregnant people with myasthenia gravis can be pass antibodies in utero and cause neonatal myasthenia. It's a condition that causes temporary muscle weakness in the infant and usually resolves two to three months after birth.
Myasthenia Gravis Signs and Symptoms
Myasthenia Gravis Diagnosis
Myasthenia Gravis Treatments
Myasthenia Gravis Research Efforts

Support Brain Research
We need your help to continue to fund brain research projects and find cures. Stand with us in the fight against brain diseases and disorders.
Additional Brain Disease Information
Explore more brain disease information, research, and stories.
BLOG
News and Articles
Discover the latest news in brain disease research, hear stories from people affected by brain disease and their caregivers, read up on brain disease-specific information, and more.