What Is Cushing's Syndrome?
Cushing's syndrome is a rare endocrine disorder (a disorder involving the body's production and regulation of hormones). It occurs when the body experiences prolonged exposure to excessive levels of cortisol, a hormone naturally produced by the adrenal gland. Because Cushing's syndrome can cause a wide range of symptoms—including weight gain, headache, fatigue, high blood pressure, and others—it is often difficult to diagnose.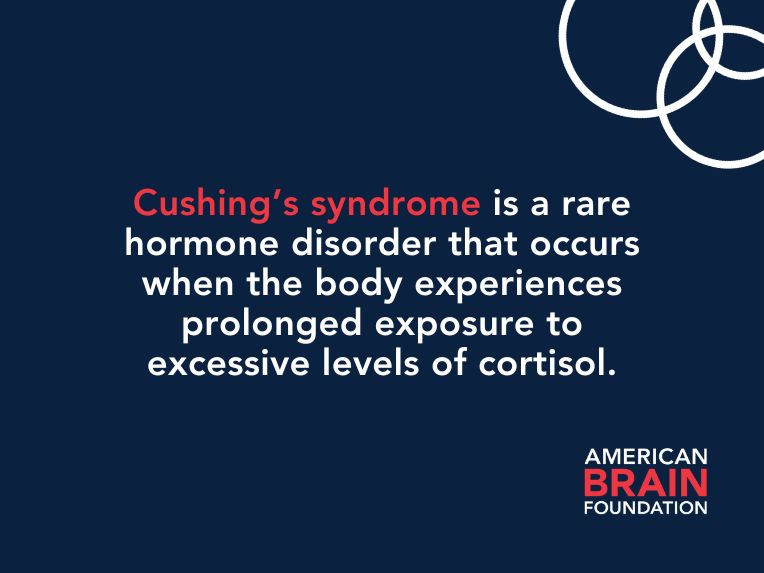 40 to 70
People out of every million who have Cushing's syndrome
30 to 50 years old
Most common age range affected
3x
As many women affected as men
Cushing's Syndrome Risk Factors
Cushing's syndrome occurs when the body's tissues experience chronic long-term exposure to the hormone cortisol. Cortisol is sometimes called the "stress hormone" because it helps the body respond to stress. It also helps regulate blood pressure and blood sugar levels, reduce inflammation, and turn food into energy. Cortisol is naturally produced in the adrenal glands, two small glands on top of the kidneys.
Cushing's syndrome most commonly affects adults between 30 and 50 years old, but it can also develop in children. Too much cortisol can be caused by an external factor (exogenous Cushing's syndrome) or by something inside the body (endogenous Cushing's syndrome).
Exogenous Cushing's Syndrome
Long-term, high-dose use of glucocorticoids is the most common cause of Cushing's syndrome. A glucocorticoid is a medication similar to cortisol that is used to treat inflammatory issues such as asthma, rheumatoid arthritis, lupus, joint pain, and skin rashes.
Endogenous Cushing's Syndrome
Pituitary adenomas cause 8 out of 10 of the cases of Cushing's disease that are not caused by glucocorticoids. Pituitary adenomas are non-cancerous tumors of the pituitary gland that produce too much adrenocorticotropic hormone (ACTH)—a hormone that controls cortisol release, which in turn causes an overproduction of cortisol. When Cushing's syndrome is caused by pituitary tumors that make too much ACTH, it is called Cushing's disease.
Excess cortisol can also be caused by tumors of the adrenal gland or ectopic ACTH syndrome, a condition in which potentially cancerous tumors throughout the body produce ACTH.
Cushing's Syndrome Signs and Symptoms
Cushing's Syndrome Diagnosis
Cushing's Syndrome Treatment Options
Cushing's Syndrome Research Efforts
Cushing's Syndrome Resources
Brain & Life®: Cushing's Syndrome
National Organization for Rare Disorders: Cushing's Syndrome
Mayo Clinic: Cushing's Syndrome

Support Brain Research
We need your help to continue to fund brain research projects and find cures. Stand with us in the fight against brain diseases and disorders.
Additional Brain Disease Information
Explore more brain disease information, research, and stories.
BLOG
News and Articles
Discover the latest news in brain disease research, hear stories from people affected by brain disease and their caregivers, read up on brain disease-specific information, and more.