Meet the new grant recipients and learn about their innovative research projects
The American Brain Foundation's Next Generation Research Grants fund and support innovative investigations by the best and brightest early-career researchers. Funding research across a broad spectrum of the brain and nervous system is our best hope for finding better treatments, prevention, and cures for brain diseases and disorders. With the support of our donors, we're helping to launch long-term careers for the next generation of clinical neuroscience researchers so that one day we can all enjoy life without brain disease.
Impact of Next Generation Research Grants
Welcome to the 2021 Class
Jonathan Brent, MD, PhD
ALS
Mutations in KIF5A, a type of motor protein, have been identified in patients with ALS. Dr. Brent will study how these motor proteins function in neurons, and how and why mutations in these proteins may cause ALS. His research has the potential to impact how ALS is identified and treated, leading to improved treatments and quality of life for people with this incurable disease.
Helen Hwang, MD, PhD
Parkinson's Disease
By using innovative imaging techniques, Dr. Hwang intends to analyze cerebrospinal fluid to identify biomarkers for Parkinson's. New biomarkers may aid in early diagnosis and monitoring, as well as the development of new therapeutics.
Paul Sampognaro, MD
ALS
Dr. Sampognaro's research will help to clarify the disease mechanism of ALS and identify new therapeutic targets for treatment.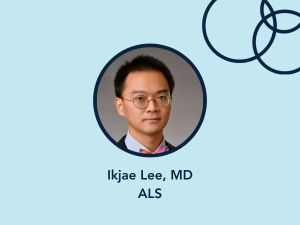 Ikjae Lee, MD
ALS
Dr. Lee's project will seek to identify lipidome biomarkers that are associated with faster disease progression, and will examine whether serum lipidome and lipoprotein composition are significant predictors of ALS. This research could point to metabolic alterations and nutritional deficits that could help to explain why ALS progresses more quickly in some patients.
Samuel Terman, MD
Epilepsy
Dr. Terman will study the effect of anti-seizure medications discontinuation on seizure relapse risk and create an individualized risk calculator of seizure relapse for both discontinuation and continuation of anti-seizure medications. This research will help doctors and patients make better treatment decisions by estimating the risks and benefits of discontinuing anti-seizure medications.
Wai-Ying Wendy Yau, MD
Cognitive Aging
The goal of Dr. Yau's research is to discover the connections between early vascular risk and white matter injury. By identifying biomarkers in the white matter, Dr. Yau hopes to connect these indicators to higher vascular risk in order to slow the rate of cognitive decline and promote healthier brain aging.
Alexander Gill, MD, PhD
Multiple Sclerosis
Dr. Gill's research will study NLRX1, a protein that plays a role in the immune system. Recent studies have shown a correlation between the loss of NLRX1 and an increase in neuroinflammation.
Renatta Knox, MD, PhD
Neuromuscular Disease
Dr. Knox will study the DUX-4 protein as a potential cause of Facioscapulohumeral muscular dystrophy and will examine gene modification therapy to potentially block the DUX-4 protein from being released.
Reem Waziry, MBBCh, MPH, PhD
Cognitive Aging
Dr. Waziry will develop biological age measurements assessed through a routine blood test to study whether biological age can help predict cognitive outcomes for stroke survivors. This project will also help researchers learn more about racial disparities in stroke risk and outcomes.
Learn more about our researchers.
Thank you to our partners for making the Next Generation Research Grants possible
The American Brain Foundation works with the most respected organizations working to defeat specific diseases of the brain and nervous system. Together, we can outsmart brain disease.
Our Research Partners
American Academy of Neurology – Our Founder & Research Partner
The ALS Association
Alzheimer's Association
American Epilepsy Society
American Heart Association
CReATe Consortium
Epilepsy Foundation
The Mary E. Groff Charitable Trust
McKnight Brain Research Foundation
Muscle Study Group
Myasthenia Gravis Foundation of America
National Multiple Sclerosis Society
Parkinson's Foundation
Society of Vascular and Interventional Neurology
Tourette Association of America
The American Brain Foundation was founded to bring researchers and donors together in the fight against brain disease. Learn more about brain disease or make a gift to support groundbreaking brain disease research.