The American Brain Foundation has named 11 researchers as the recipients of its 2020 Next Generation Research Grants in support of neuroscience research and training. The program funds early-career researchers seeking to identify causes, improve treatments and discover cures for a spectrum of brain diseases and disorders.
The American Brain Foundation partners with the American Academy of Neurology (AAN) to support the Next Generation Research Grants program, funding the innovative research of early-career investigators as they embark on their careers, encouraging passion for research and laying the groundwork for future success.
"American Brain Foundation's continual investment in a broad range of outstanding research projects serves as a strong foundation for curing brain diseases and disorders which are an existential threat to millions of Americans," said David W. Dodick, MD, FAAN, board chair. "When we fund the best and brightest minds to source the most high-risk and high-reward research, we move one step closer to discovering cures."
Through the Next Generation Research Grants program, the Foundation cultivates a pipeline of early-career physicians and post­-doctorates who seek a career in clinical neuroscience, and helps position them to secure additional funding. More than 85% of American Brain Foundation researchers have gone on to secure funding from the National Institutes of Health and other entities.
The American Brain Foundation brings researchers and donors together to invest in research across the whole spectrum of brain diseases and disorders. Because these brain diseases are interconnected, the Foundation believes that when we cure one of them, we will cure many.
Next Generation Research Grants are available to those who have recently completed residency or a PhD and are pursuing an academic career in research. Recipients are vetted and chosen by the AAN's Science Committee.
Interested researchers may apply for the 2021 program through October 1, 2020, by visiting https://www.aan.com/research/aan-research-program/www.aan.com/education-and-research/research/aan-research-program.
For more information about the research program, to apply for a Next Generation Research Grant, make a donation, and more, visit www.americanbrainfoundation.org/ngrg/.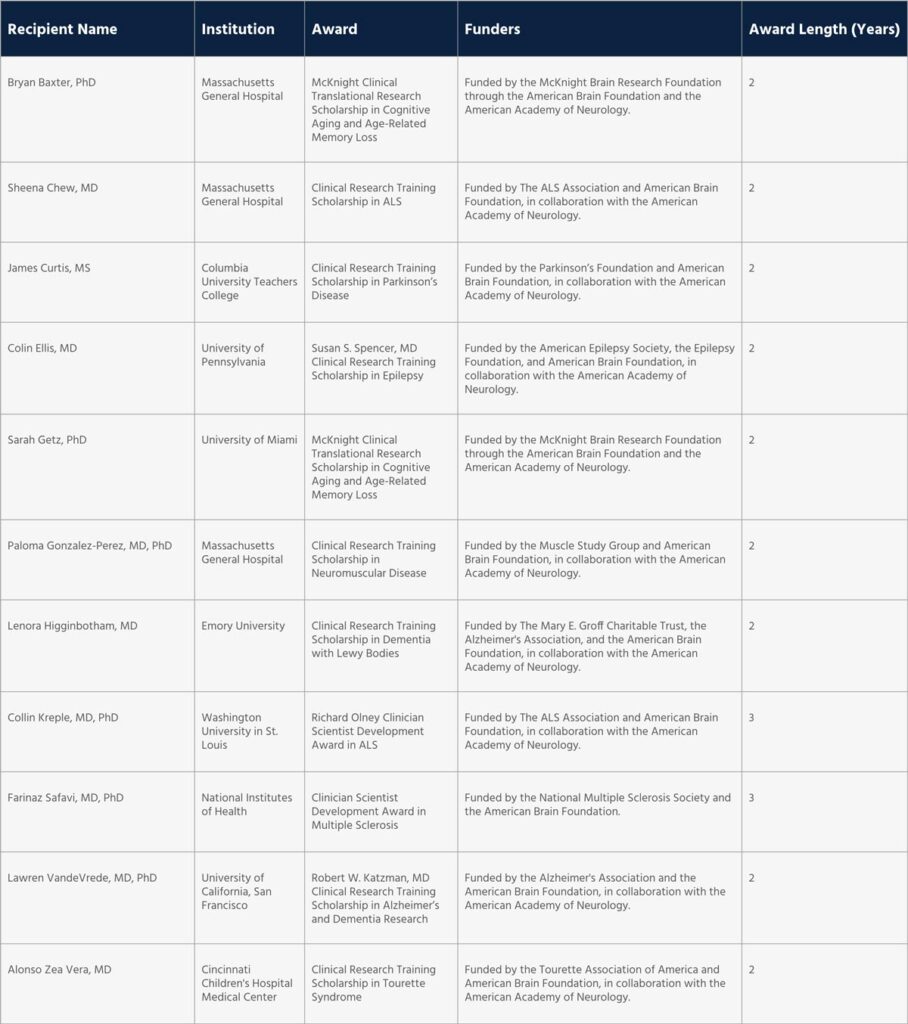 2020 Research Award Recipients: American Academy of Neurology Awards funded by the American Brain Foundation